In 2007, I bought some vintage MTB parts off ebay from a local Durango seller. I had known him casually over the years, but the pickup was the first time we'd ever discussed old bikes. He told me the story of Yeti closing in 1999 and how people scored stuff from the dumpsters. I had heard about this, especially the remaining stock of C-26 kits and tubesets. Two complete frames were assembled using rivets (scary) and sold to Europeans. One tubeset was used to make a ladder for a kid's bunk bed. Other kits were sold to various collectors who had no resources with which to make complete bikes. I asked my friend whether he had any tubes, and sure enough, he did. He told me it was his last set and I paid him with with the $27 I had in my wallet.
I also knew Chris Herting casually through the Durango scene. He had built my hardtail MTB and had done other repairs on bikes throughout the years. I made a trip to see him and showed him the tubes. I knew Chris could build a bike with them, it was just a matter of convincing. It wasn't the first time he'd been presented with the idea, either. A year before, a California collector had bought a complete C-26 kit off ebay (for $1,110 IIRC) and Chris had glued it for him. That contact opened the door to other European collectors who had tubesets and needed complete frames. Chris had offered to do the work, only everyone was so put off by the price and turn time (>2years) that he hadn't even considered doing it. I thought both were reasonable, and so it began. A donor frame in the desired size was sourced.
Paint stripped and rear end removed.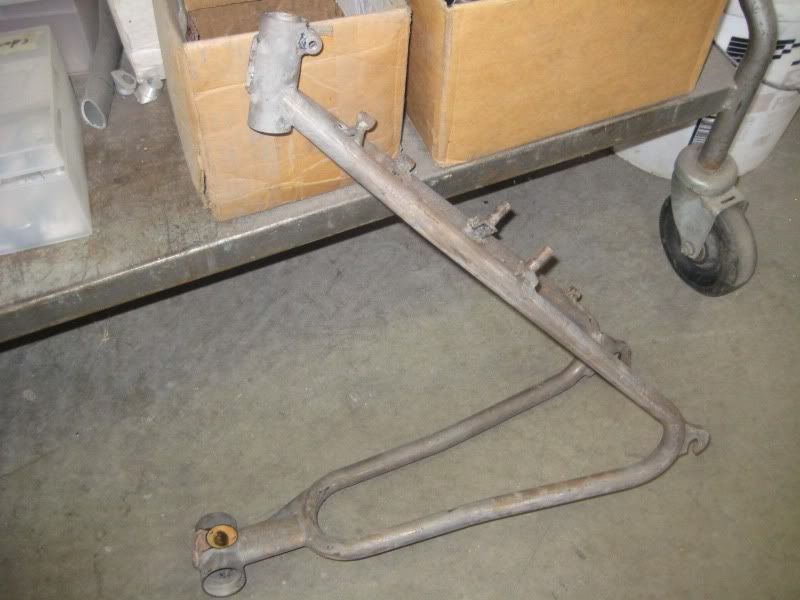 One of the challenges in re-creating the bike was that Herting no longer had any of the tooling he built back in the day. Also, a little-known fact is that the specs for the C-26 lugs were given to Yeti by Easton, and Herting hand-made the first lugs on the lathe. When the desired results were achieved, they sent the specs to a Burbank machine company to have lugs made for the rest of the bikes. Those specs are long-gone, so Herting had to re-make each lug on his lathe.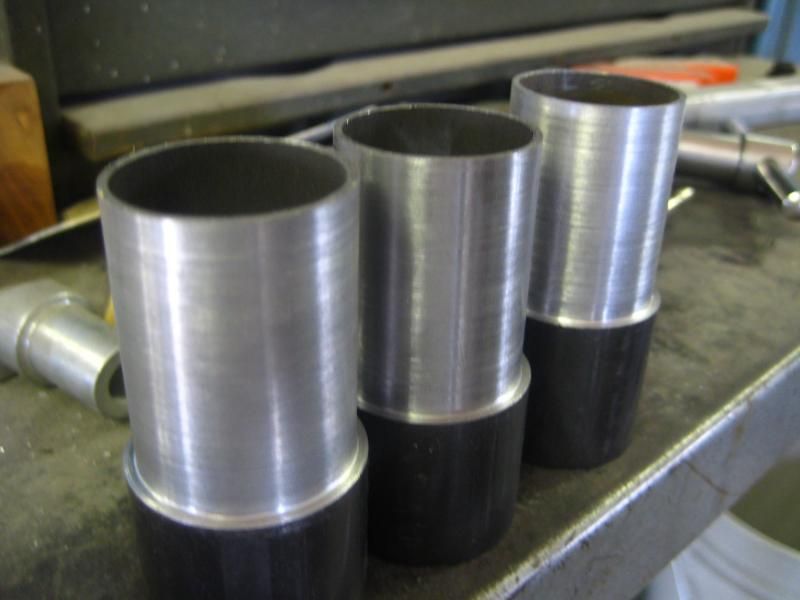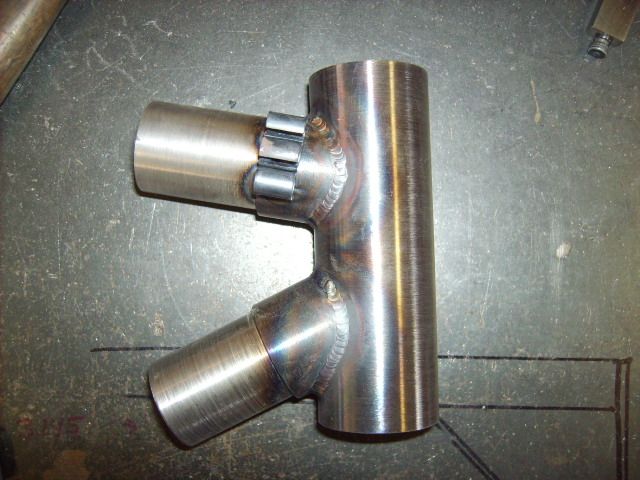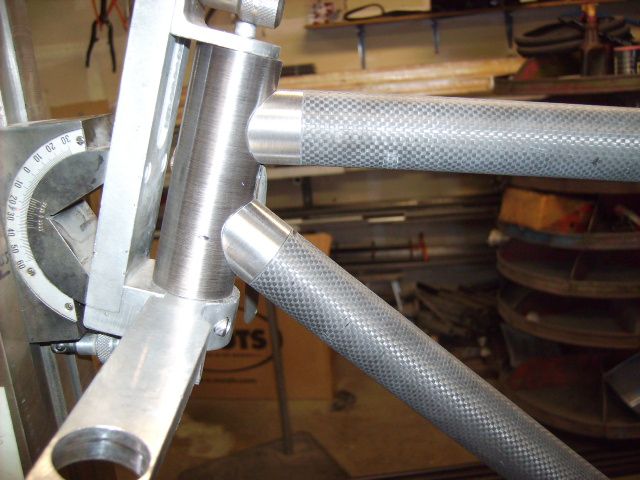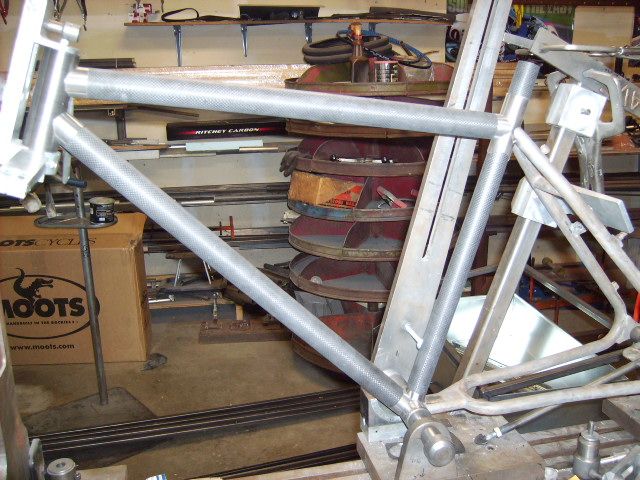 About a year in, I got to taking a harder look at this photo.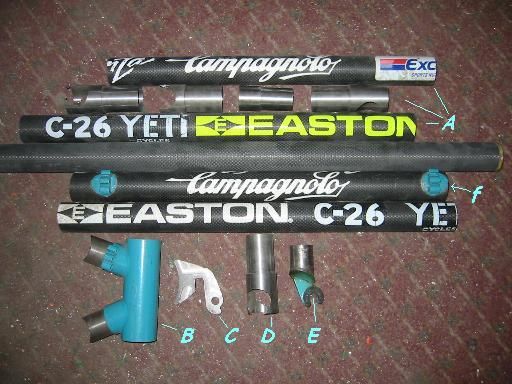 I realized the fork dropout had a lug on it, and knew it had to be for a carbon Accutrax. According to Herting, the carbon forks legs were seattubes. Since there was one readily availble in the photo, I suggested making a fork. He was all for it.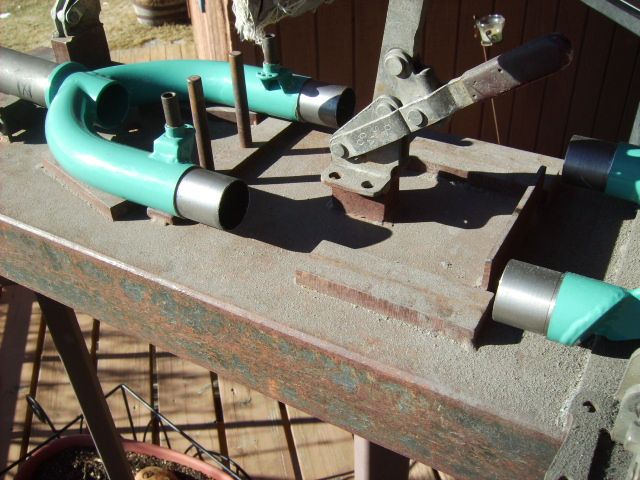 I also used the downtube from this photo to replicate the original decals.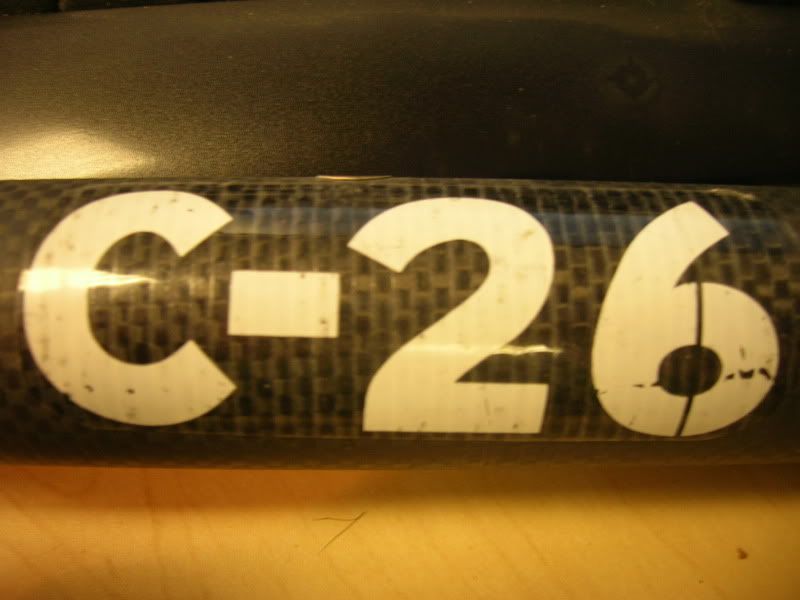 There's a very good chance the bike from where these tubes came is seen in this photo, taken at the Georgia NORBA National in 1990.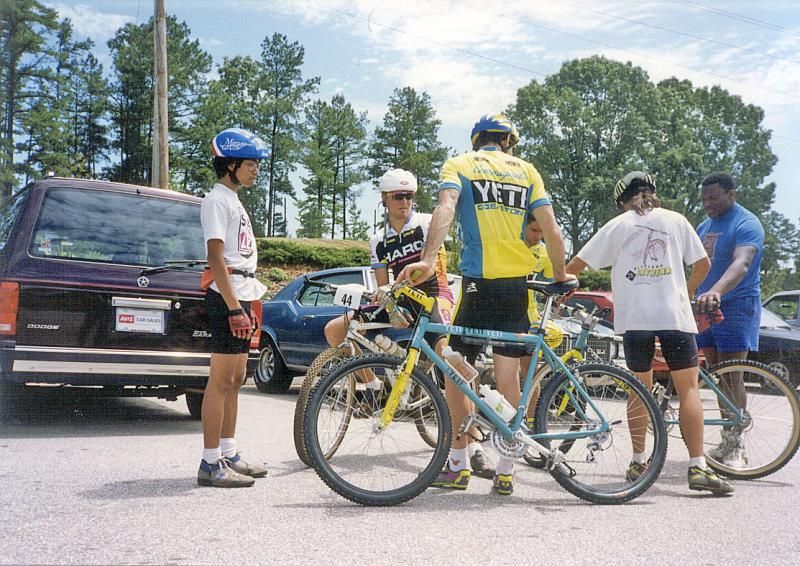 I'm not sure who is in the foreground on the FRO, but Joey Erwin is standing off to the side, likely making this one of his early frames. When I had Herting press the King headset in, I realized the fork steerer was too long. No problem, a centimeter off the headtube will solve that.
Pickup. 2 years later.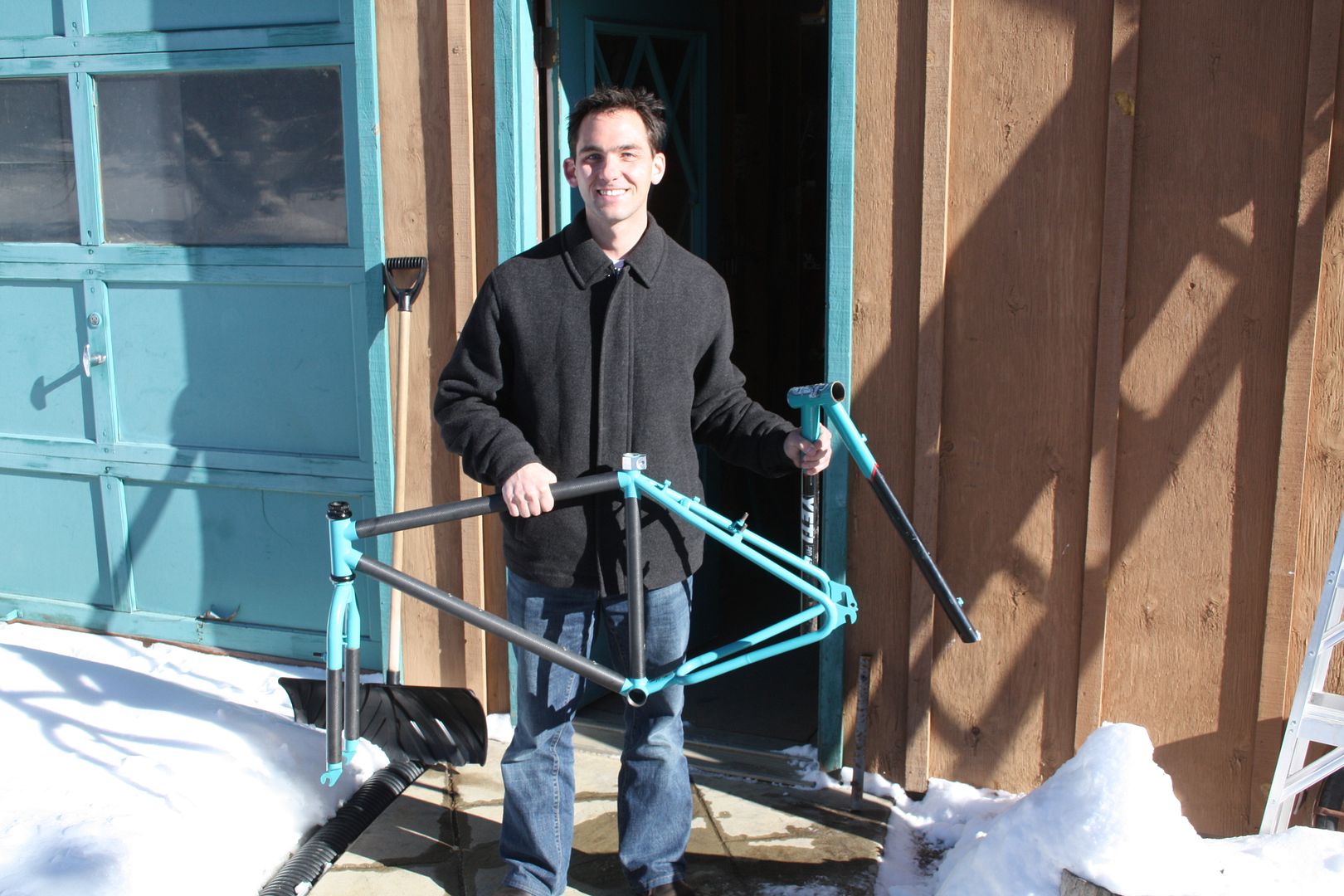 Decals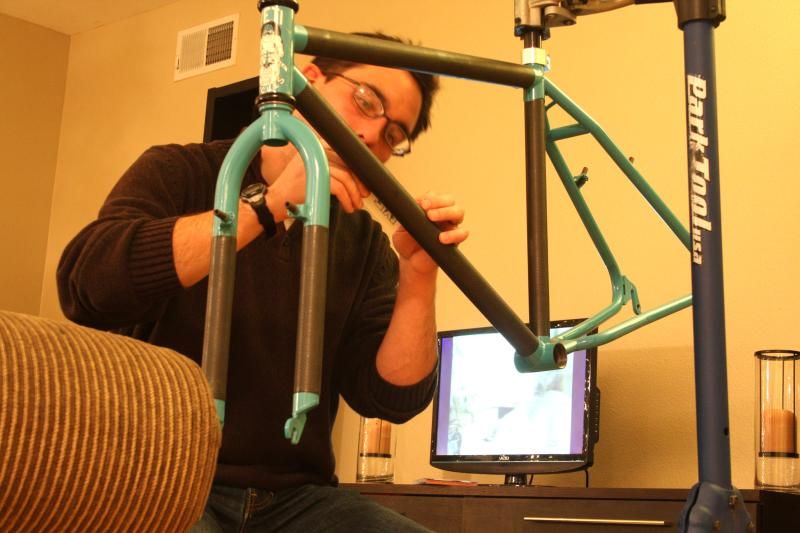 Finished.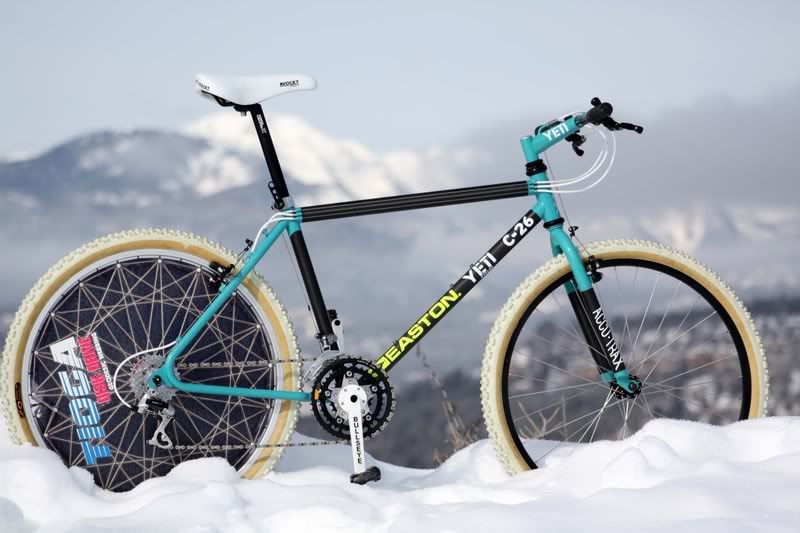 This photo has traveled far across the internet. It strangely and and amazingly ended up as a print on the wall of Danny Macaskill's bedroom in the famous internet short movie, "Imaginate."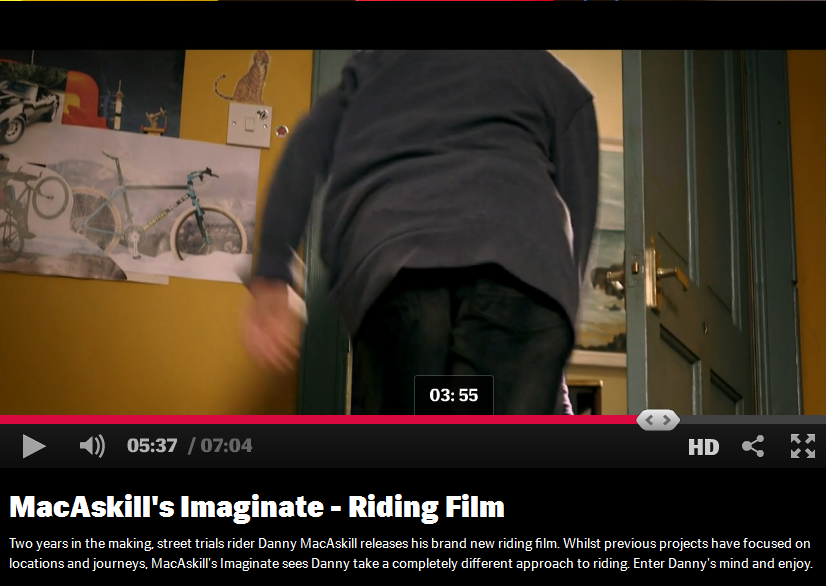 This was Retrobike Bike of the Year 2009. Fun story: I spent $500 on the tires for this bike. NOS shipped from Germany. The never touched ground, and the bike never saw a leg thrown over it, until one day my dad pulled the off the wall and rode it around in our parking lot, de-NOSing the tires. A very costly 30 second bike ride. It hung like that for years. Herting would stop by and remark that the varying temperatures of southwest Colorado should have caused enough expansion and contraction of the steel and aluminum to cause the bike to simply fall apart. He said if he had used the glue from 1989, it for sure would have. In 2012, I was living in the Denver area, and had an opportunity to move back to Durango. The bike had hung on the wall for three years and I didn't want to bring it back to Durango to hang again. So I contacted Chris Conroy of Yeti Cycles and offered it for display. He was all for it.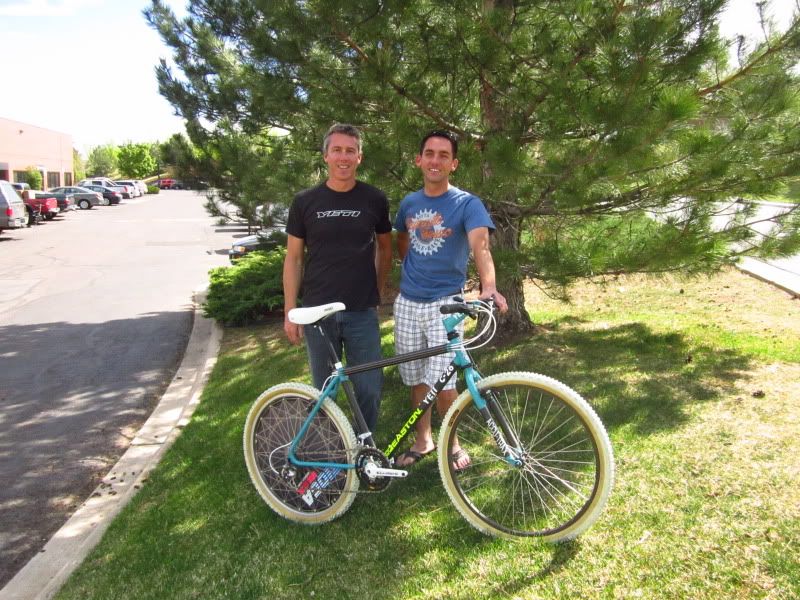 It was prominently displayed for years at Yeti alongside some amazing bikes and memorabilia.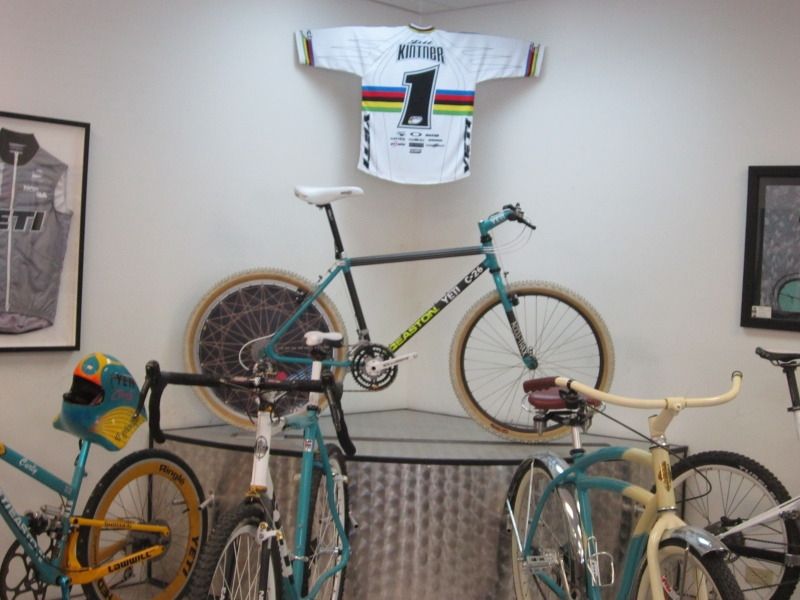 In 2014, I decided to move the bike from Yeti in Golden, CO, to the new vintage bike museum at The Pros Closet in Boulder, CO. They made some studio shots upon receipt. Special thanks to Jarrad Lokes for providing these.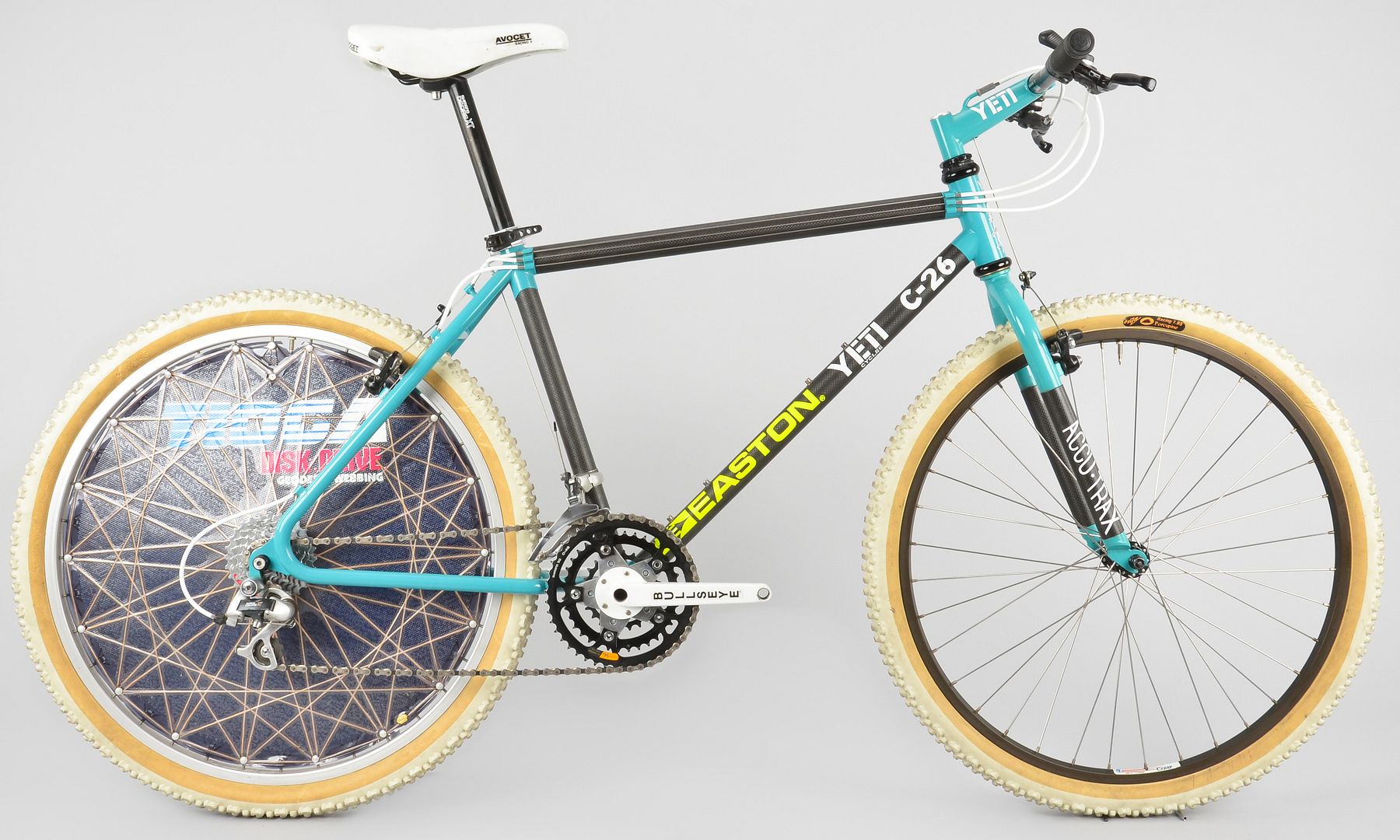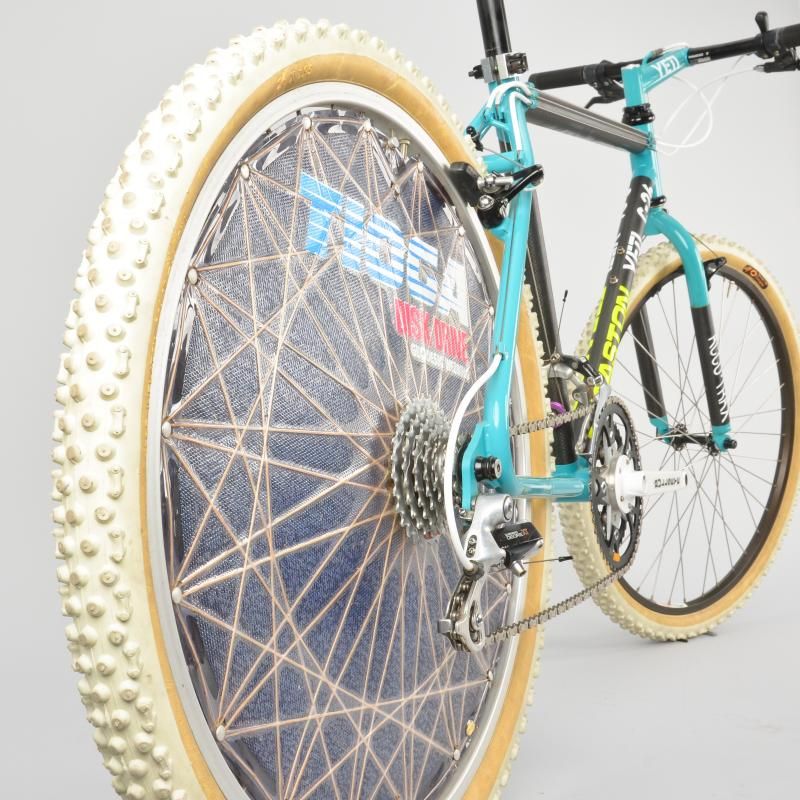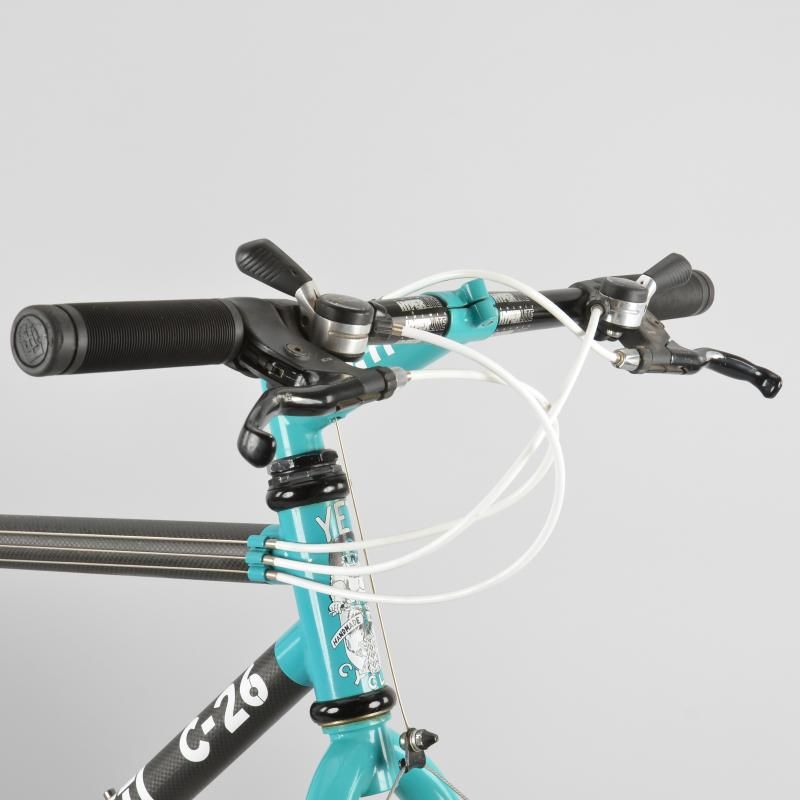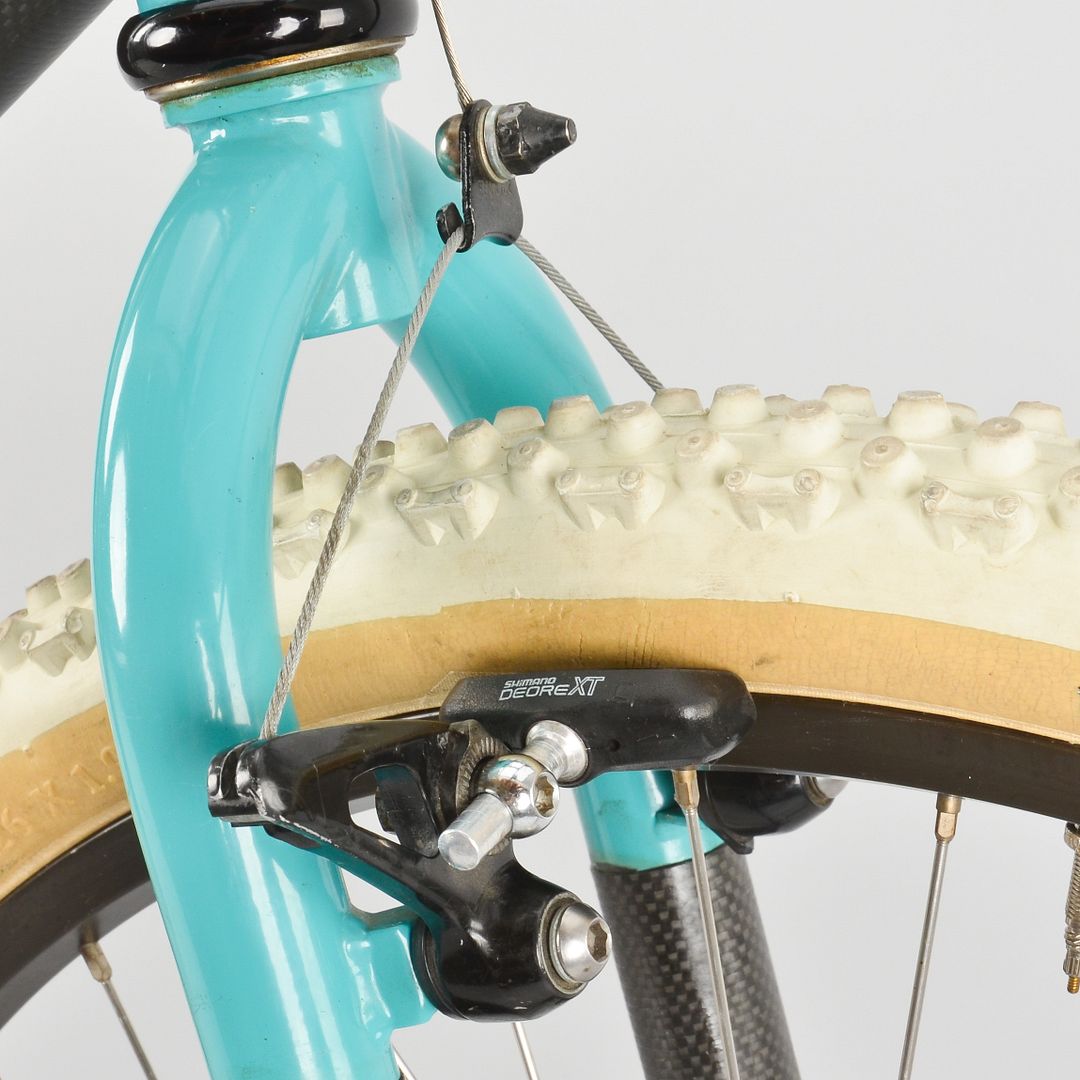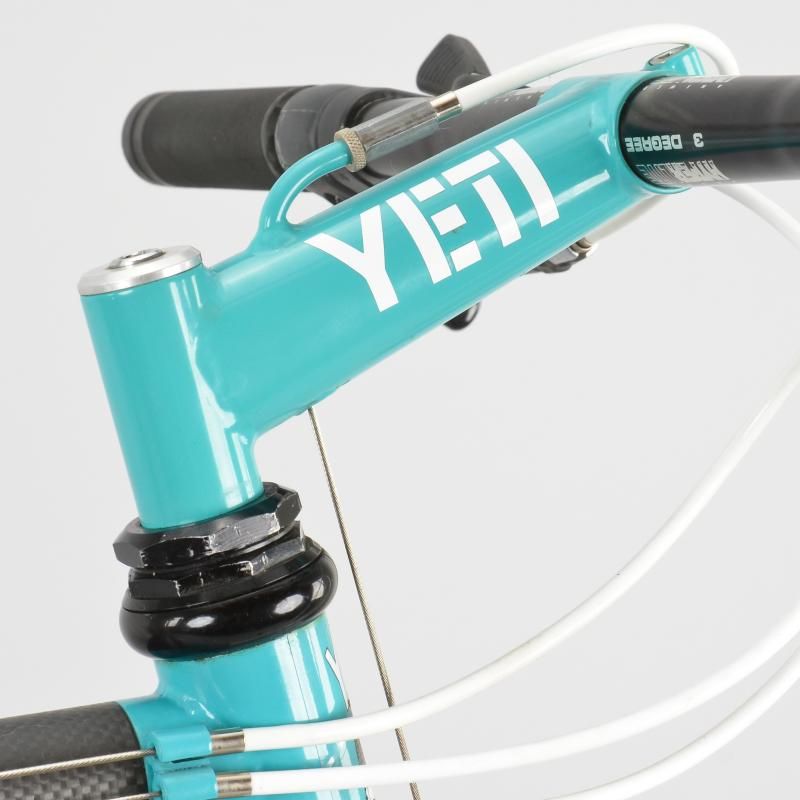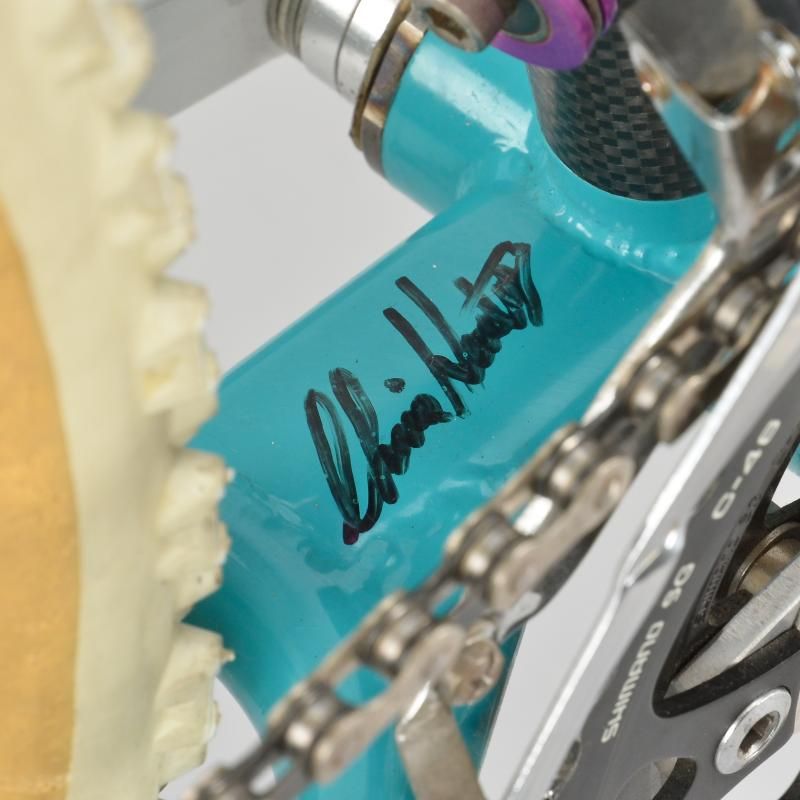 Six years later, this bike still humbles me. Yes, although the seller of the tubeset claimed it was the "last one," curiously a half-dozen more have surfaced on ebay. Chris has built some bikes, and as of this writing, he has a few more to build, however, none have the carbon fork. The C-26 rebuilds have been called "fakes," which is utterly ridiculous. The original C-26 was made using a FRO rear end. The later team bikes had rear ends specifically designed for C-26 use. Also, given the lugs are hand-spun by Chris and not sourced from a machine company, one could make the argument these recent bikes made by Chris have more legitimacy than others. Looking back, I wouldn't have done a thing different with the build. It's pretty much perfect. I have two regrets: One, that I never got the chance to ride it. The second takes longer to explain. Easton originally provided carbon tubes for chain and seatstays, but Chris never had the chance to build them into a bike. They exist, somewhere out there, and my bike is first in line when and if they're found.